The battle of emperors in Wassenberg
The Musical
Two kings, one battle and a rocking pope, based on a historic event all musical elements composed and arranged by Torben Beerboom.

More Details about the storyline below.

Get carried away in old times!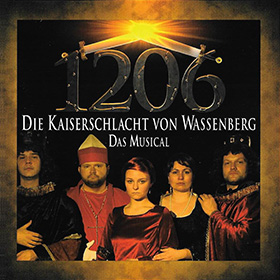 Released in German
at July 22, 2006
FOR MORE INFORMATION ABOUT COOPERATION FOR STAGING CONTACT TORBEN BEERBOOM AND HIS MANAGEMENT!
The storyline:

1206, Wassenberg at the Lower Rhine: the German nobilities "The Hohenstaufen Dynasty" and the "Guelfs Dynasty" completed a civil war that lasted 8 years in the German Empire. The reason is a double vote that took place in 1198. The Staufer "Philipp von Schwaben", as well as the Guelf Otto IV. were declared. Both strive for the coronation to become the new German Emperor. Moreover, the approval of the corrupt Pope "Innozenz III." is required. He claims a princely reward for his decision. Whatever decision is made, the two fronts do not come to a peaceful solution.